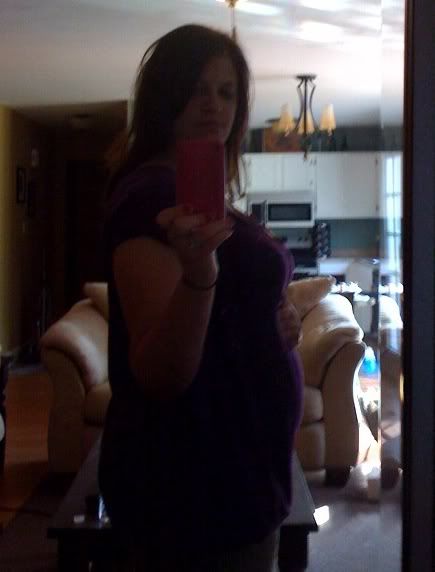 WOW....baby has grown. Here I am at 18 with my first bump
and now 10 weeks later at 28!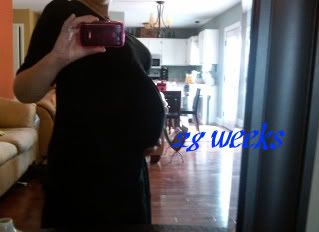 My ultrasound is scheduled for Monday afternoon! I know I will be counting down until it's time...but hopefully we will see a healthy (and not incredibly huge) baby .
So, after thinking about it all day, I decided so what....he comes early. Big deal. So what if he is 12 pounds (ok, I won't lie I have not come to terms with a big ol baby!) I momentarily freaked out because we are nowhere near ready. We don't have furniture, his room isn't ready, and we have yet to go to childbirth classes!
I decided to think of all the positive things that could come out of him coming early.....
October baby would mean that we would have more time to prep for the holidays (baby's first!)
I wouldn't have to wear those stupid wrist guards to bed anymore (cause they sure are sexy)
No more swelling
No more swelling means, I get to wear CUTE SHOES AGAIN!
No more digestion issues
Hopefully, no more headaches
I would not have to pee every 5 minutes
I wouldn't have to shudder every time I step on the scale (well, lets hope after he is born the weight progressively goes down)
As Kristal pointed out, I could see New Moon when it is released!
Brushing my teeth would go back to being an uneventful routine (without the daily gag)
Ice-T would be reintroduced back into my diet (though still in moderation :)
I would get to pig out on sushi and wash it down with a GINORMOUS glass of vino!
Both my boys would share the same birth month, thus easier to remember, lol!!!
I would be able to shave my legs and paint my toenails with ease sooner.
I would get to enjoy some of the fall weather home with my little man
We would have a name for him! (at least i hope we will, lol!)
Last, and most importantly, I would have my little squishy man in my arms. I would know he is healthy, and safe. I would get to fall madly in love.....
I think that is the whole thing that gets to me is that I have no control in this what-so-ever!! I am a big planner, and not knowing can be exhausting. I have to keep an open mind, and know that whatever happens is going to happen. After this and the other stuff we went through, I don't care what it takes for him to get here, as long as he is a happy and healthy baby (who might be full of cute little rolls!)