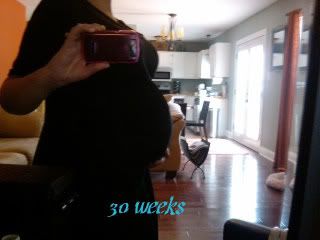 I can
officially
say that I have less than 10 weeks to go! 9 weeks and 6 days....but again, who is counting and who knows when this stubborn little man will come!
This week has been a busy one (with lots of extra hours at work...
boooo
!) but we did get a lot accomplished! We picked up his
furniture
on Sunday and by the end of the day I had the rocker, and the changing table ready to go. Then last night someone came over and helped us put together the crib! I'm waiting on the slipcover to be
delivered
for the rocker! (thank you
ebay
!)
Blake painted the ceiling, and the grey paint is in my garage waiting for a coat on the walls! After last night though, my fears about how all his stuff fitting in his room started to get real. I had it in my mind how I wanted it to go, but it is not going to work out that way. I guess in a few days I can move everything in there and figure it out.
I MIGHT have found the perfect fabric but still looking to make sure :)
I am still feeling like I need 40 hours of sleep a night, and my carpel tunnel is getting worse. I am getting asked almost daily about the due date or something baby related so I must look
prego
and not like I ate too much. Speaking of food...yeah about that. There is NO room in this belly for food. I ate half a bagel with peanut butter this morning and that is all I can fit. So, I feel like I am eating all the time, but just less food at one time.
I guess all of this is getting more real to me and my dreams have been so whacky. Last night I dreamt I delivered TWO babies, both over 9 pounds. I looked at them and they were HUGE. Oh, the mind can do mean things to you.
What's happening at 30 weeks.....
Apparently at 30 weeks, my little man is probably close to 16" long from head to toe. In fact, he or she is almost done growing…at least length-wise! On average, your baby will grow between three and five more inches.
The eyelids can fully open and close around week 30 of pregnancy. Your baby's eyes will remain open for longer stretches throughout the day, too. While they don't really have a lot to look at in there, they will still begin to work on their vision
Your baby can produce tears during week 30 of pregnancy and because they can even cry while in the uterus---aw I hope my baby is not crying yet!

YAY

--The head has probably turned by week 30 of pregnancy! This is very exciting – it means your baby is getting ready for delivery. The baby, who has up to now normally been seated with his or her head upright, has now turned down. When they have turned and the head is down, it is preparing to enter the birth canal. And by this point – we can guess what that means! Delivery is getting closer every day! (HOLY CRAP--I am really having a baby! this is really getting close!) Even though there are 10 weeks left at 30 weeks of pregnancy, give or take a few days, you are in the final quarter of your pregnancy.
I feel like there is more I should be doing but after his room is done, I guess I will just organize and reorganize the house 4,300 more times!