8 weeks, 6 days......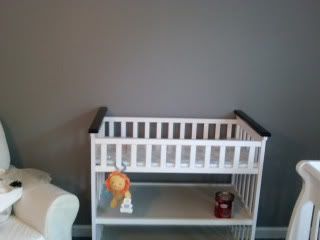 Yippee Skippy! THE ROOM IS PAINTED. HALLELUJAH! Can you tell I am excited? I love the color and the picture does not do it justice. (I need a new camera STAT before this baby comes!) but I feel like things are coming together really soon!
The only snag I have found so far is that I cannot find a slipcover for the chair anywhere. I was hoping to find a fun color but that is not easy. I was going to settle for white or even blue, but not having much luck. I erroneously ordered a slipcover from Ebay that does not fit. BOO!
Today, i found the cutest Amy Coe canvas print at TJ Maxx for 9.99! It's perfect for his room! I am getting started on the 'alphabet wall' and have some acquired already. I am on a serious hunt for letters!
On the baby front, there are times when I can see my stomach jump, and it's the coolest thing since.....well, EVER! The past two days I have started to get really uncomfortable. I think it has to do with the fact that he is head down and burrowing that little head of his into my pelvis or my bladder. I swear me and the bathroom are now BFF's.
I have found some fabric that I am going to use for the curtains, and baby blanket/quilt. I hope it's as cute in person as it is online!
I visited a friend of ours that had a baby this week, and it just amazes me that I have one of those that I am carrying around, lol. My dear hubs said the cutest thing the other day, and it made me smile. He said that he is really pumped that the baby will be here soon! I love it!
By the way, I go for my 32 week appt. a week from today! We'll see what the doc has to say!