My goal this weekend was to get all the stuff I needed to get done and have it checked off my list! I overdid it, and blake put me on bed rest today (though I didn't mind spending my day off doing nothing!)
My bag is packed! Though, someone wants to go with me!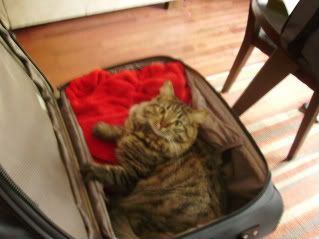 Too bad I can't take her with me.....


I bought the rest of the stuff we needed, though I am sure I'll think of 459 more things.
I finished a project for his room! I was worried how it would turn out and I think I like it! :)
I washed and hung all his clothes, blankets, bibs...etc!
I finished part of his alphabet wall. I don't really have the time or energy to do it the way I had wanted, but I kinda of improvised and like how it turned out. I am just waiting on getting the fabric sewn, pick up one more thing, and then I will share pictures!
I feel ready. Brady, you may come out and play now! Wow...this is real isn't it?