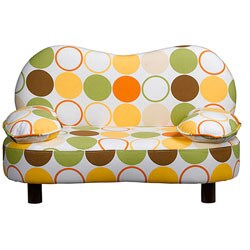 Cute isn't it? Well, guess what? It's more suitable for Piper and Lily than it is for us humans. It's abit pricey for a doggie bed but it sure is adorable. Find it at Overstock
here
.

Speaking of pets, Piper is finally back to her normal self. She gets spayed on the 29th so lets hope she doesn't go back into heat by then!
Last week, I finsihed up my gazillionth round of Physical therapy. While i think it's helped strenghten, the pain has yet to go away (and it has been worse lately.) I'm trying to stay positive but it's hard after 9 months. I decided that i needed a 2nd opinion and I see a new doc (thanks Mary, Ali and Megan!!!) next week! I'm really hoping for something--an answer to why i am still in pain would be the best! Wish me luck!
I have been searching and searching for a duvet cover that i love, but have had no luck. Then, thanks for
Mary
and
HGTV
, I found this.
I don't think i want this specific color, but something similar. I love green. Love green, it's rather an obsession. I have a green coat. Green accessories. Green blankies, and everything else, why not a green room. I love the white with the bold color. I don't think he'll care but I'll have to consult with the mister. :) Add a simple white duvet, and the white furniture. Viola! That is my next project (at least one of them)